I used to think that
Mixture
is tough to make. Mainly because, there are a lot of items in a mixture like Boondi, oma podi, aval ect. But after trying it, I can say for sure that it is one of the quickest snack I have ever made. Though the recipe calls for oil for deep frying, I think you can compromise on your diet for a festival like Diwali, which comes only once a year.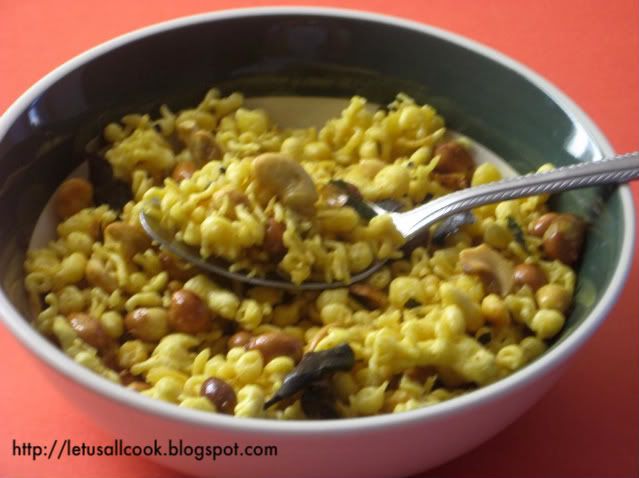 Even though store bought mixture has its own taste,
homemade mixture
is more scrumptious and relatively healthy as we can use fresh unused oil for deep frying. I am sending this and my other
Diwali sweets and snacks
to
Pallavi's YFF - Diwali
. With no further delay, let me share the recipe with you.




Ingredients:

( Makes 2 cup of mixture)

Gram flour/Besan - 1 cup
3 garlic flakes, minced (optional)
Ground nuts - 1/4 cup
Few fried Cashews
Flattened rice or Aval- 1/4 cup
Few curry leaves
salt to taste
1 tsp of chilli powder
Oil to deep fry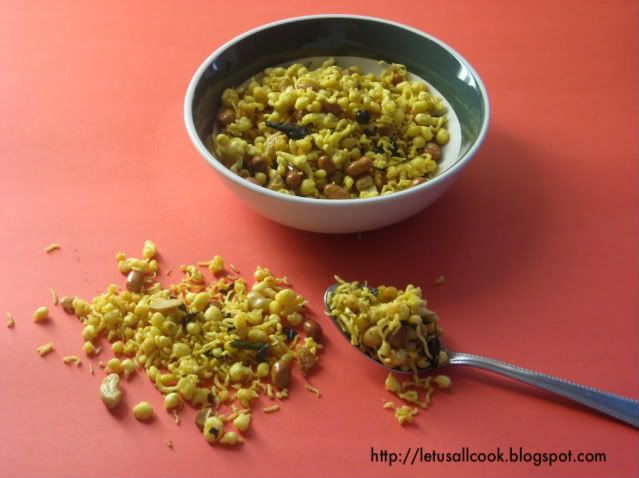 Method:



Follow this method to make Boondi.

Follow this method to make Omapodi.

Fry Aval, curry leaves, groundnuts and cashew nuts in oil. You can shallow fry these if you want to avoid oil.

Now in a big bowl, mix boondi, omapodi,groundnuts,cashews,curry leaves and toss them.

Add salt and chilli powder as per your spice level.

Mixture is all ready to eat! Enjoy.



Happy Diwali 2008

to you! Check out my other recipes (Sweets and Snacks) for Diwali

.