Sometimes this happens. Your Idly/Dosa dough ferments more than required and it will taste worse. The sourness makes you go yuck! But this time I tried a new way to make the dough still edible.
Easy and quick way to cook with your leftovers
. I had few carrots and beans which was not enough to make a side dish on their own. So I used them along with this Idly batter and made
Vegetable idly
.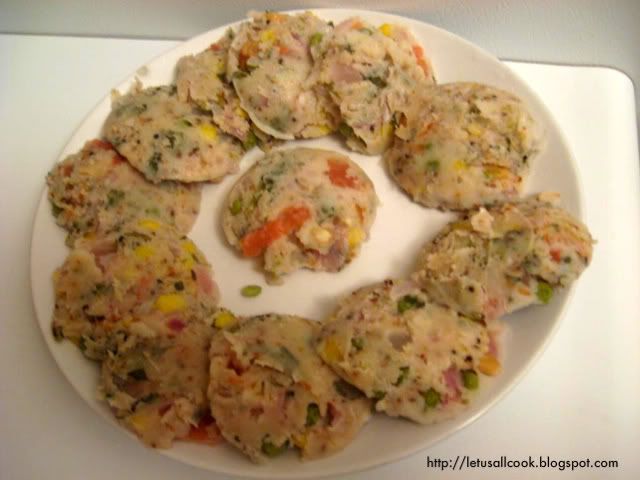 To tell you the truth, it was not that bad. It tasted more like an Idly but still had these vegetables. Which means we are eating healthy! Simple huh? Even the color of the Idly was a bit different. I think it was because of the carrots I added.
To make this Vegetable Idly
, you will need,

Idly Batter
1 cup of vegetables (Carrots, beans, tomatoes, peas, corn or any vegetable of your choice)

1 medium onion, finely chopped

few fried cashews (optional)

Salt to taste







Method:



Make the Idly batter as shown in this video.

Cut these vegetables into small pieces. I used frozen peas and corn. You may skip these or use the fresh ones instead.

Add these vegetables along with onions to the batter and add required amount of salt.

As you would have already added salt for your Idly batter, it is enough if you add a tsp of salt for the vegetables.

Mix well and Pour it to the Idly cooker.

Cook it for 15 - 20 mts and serve hot with Chutney/Dip or Milagai Podi or even Sambar would go well with these.

I you feel that the vegetables will not be cooked, you can increase the time for 5 more min or can saute all the vegetables till half cooked in a pan before adding t hem to the idly batter.



Variations:



You can also add chopped Cilantro and curry leaves to the batter.

Also in a pan, add few drops of oil and then mustard seeds. When they pop, you can add 1 tsp of cumin seeds and then 1 tsp of channa and urad dal. Saute them and add it to the batter along with the vegetables.



Idly itself is a healthy breakfast as it is steam cooked and adding vegetables would be even healthier and be a perfect diet food.