Pani Poori
- This is one of the most famous Indian Chat recipe that many die for. I really can't explain the taste of this recipe. You must experience it. The combination of sweetness and sourness makes this recipe unique and stand out from rest of the crowd. It is made differently in each part of India. For example, the Gujaratis make this more sweeter.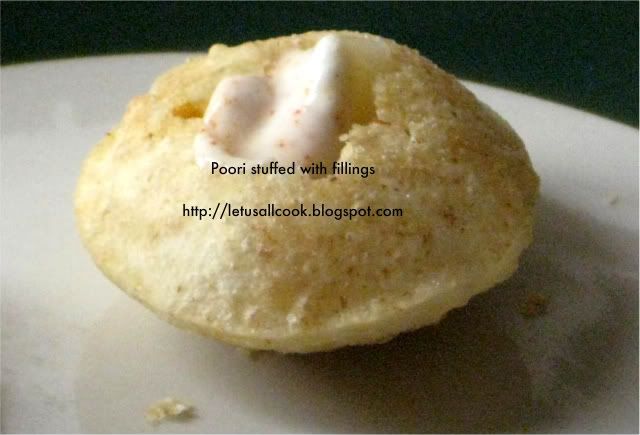 Ok now you may ask me where can I eat this? The best place to eat this is from roadside shops in India. Oh! of course we cannot find road side shops in other countries,especially in the US and UK. So here is a
homemade recipe of Pani Poori
to satisfy your cravings. You must give this a try. The best chat I have ever eaten! I know many will join me in this statement.



Ingredients:





To make Poori:



1 cup of suji(Semolina) (makes more than 50 pooris)
salt to taste
1 1/2 tsp of all purpose flour
warm water
oil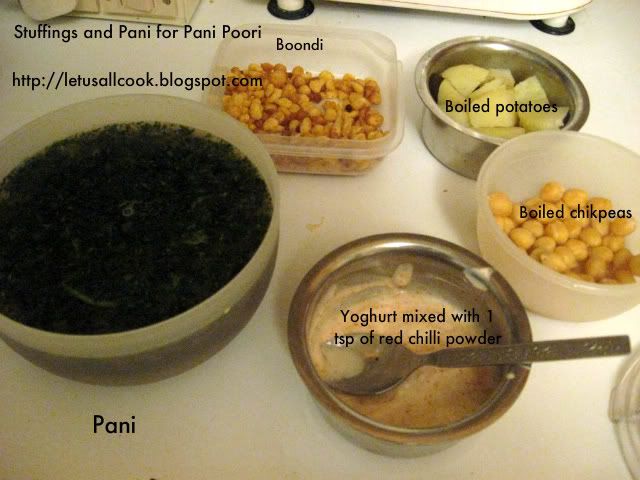 To make Pani:



Cold water
1 cup tamarind juice
1/2 tsp Black salt or chatt masala
1/2 tsp coriander powder
1/2 tsp of cumin powder
salt to taste
1/2 tsp of pepper power
1/2 tsp of red chilli powder
1/2 tsp of sugar
few cilantro and mint leaves - crush them in a blender



For stuffing:



Boiled chick peas
chopped boiled potatoes
Boondi
Yogurt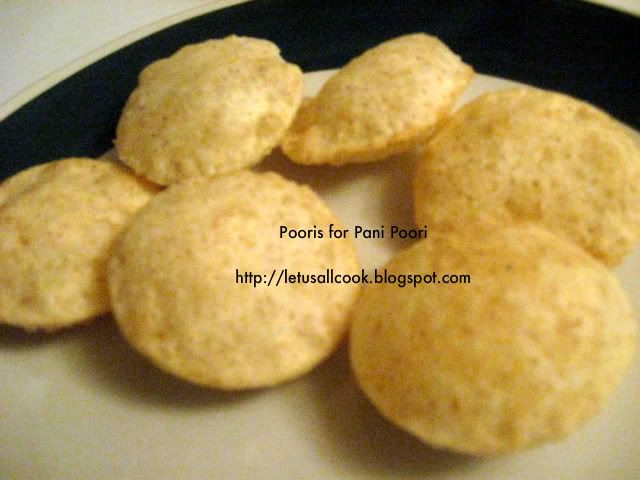 Method:





To make Poori:



In a bowl add the suji(Semolina) and salt. Mix well.

Add warm water and mix.

Add the AP flour and mix well.

Knead the dough for at least 10 minutes.

The dough must be a tight dough.

Add few drops of oil to the dough and knead for 4-5 min and rest it for 15-20 minutes.

In a table/where you are going to roll the puri, apply oil and take dough and roll it to a very thin dough.

Take a bottle cover/cutter which cuts the dough into small round shape.

In oil, deep fry these pooris. They have to puff like balloons.



To make Pani:



In a bowl, add cold water and the tamarind juice. Add all the other ingredients required for making pani.

Mix well.


How to eat Pani Poori:
This is the best part. I bet when you start eating you can never stop.

Take 1 poori, crack open so that you can add the fillings.

Add 1 tsp of all the stuffing ingredients mentioned.

Dip the Poori into the Pani and immediately take it to your mouth.

Eat each poori as a whole to get this recipe right.

Repeat this process till you are out of Pooris.

Writing about this makes me drool. Do let me know if you have tried this recipe at home.