As I told in my
yesterday's post
, here is the
Spaghetti and vegetable balls recipe
. Actually, whenever I hear the word Spaghetti I automatically think of meat balls. Assuming that the recipe would taste awesome, I wanted to make a vegetarian version of it. I do remember Cham of Spiceclub making Spaghetti and Soy balls sometime before. The thing is, my husband is not a great fan of soy products. Leaving me no choice but to try vegetable balls.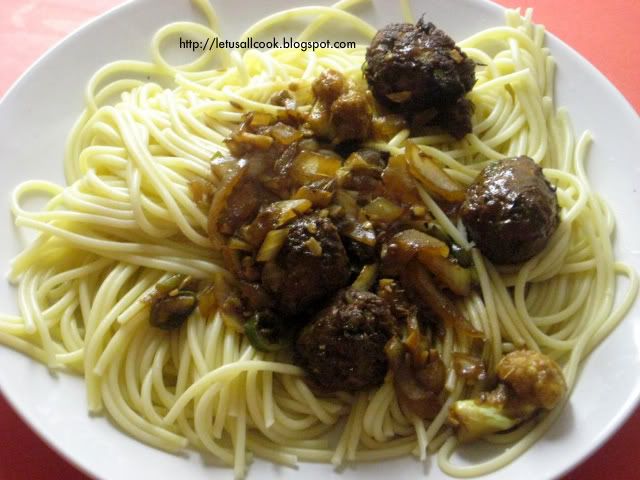 To be honest, they did taste very good and now have joined my regular dinner list. I am really amazed at myself for trying out stuff. I am a lazy person for whom cooking was a chore. But now, I am inspired by so many to try out different varieties of food.
Let me give you the recipe,



Ingredients:



1 cup spaghetti
1 cup of vegetables, fine chopped (carrots,beans,cabbage,celery etc)
1 cup boiled rice OR 1 egg
3 tbsp chili paste
3 chopped green chillies
1 tbspn chopped garlic
1 tsp cumin seeds
3 tbsp corn flour
1 large ginger, finely chopped
Oil to fry
1 medium onion
2 tsp pepper powder
Salt to taste
4 tbsp soy sauce
1 tsp sugar
1/2 cup spring onions




Method:



Add little water and steam the finely chopped minced vegetables in a pan. Steam it for 2 min and drain the vegetables by squeezing and store the water for making the sauce. This water is like vegetable stock so do not throw them away.

In a bowl add the cooked vegetables, salt, few chopped green chillies,pepper powder,ginger,soy sauce,chili paste,corn flour and mix well.

Now you can either use egg or 1 cup of boiled rice to this mixture to make small dumplings.

In a pan, heat the oil and deep fry these dumplings.



Note:

If the dumpling breaks, add some more boiled rice to the mixture.



To make sauce:



In a pan, add oil. Add cumin seeds, chopped garlic and ginger.

Add onion and saute them.

Add green chili, pepper powder, soy sauce, a pinch of sugar and chili sauce.

Add the vegetable stock, required amount of salt.

Let it come to a boil.

Now, add the vegetable dumplings and coat them with this sauce.

Meanwhile cook the spaghetti as per the instruction. Serve hot with this vegetable balls and a

perfect Thanksgiving Dinner

is ready,

the vegetarian way

!