In India, my mother-in-law makes fish fry every alternate Sundays. Though cleaning the fish is a 'process', she does it very quickly (maybe practice) and makes these fries for appetizers. Lunch time during Sundays are awfully busy. Cooking for 6 people, 6 different ways was time consuming. But we had fun, as me and my co-sister would be joking all the time in the kitchen. hmm..fun times!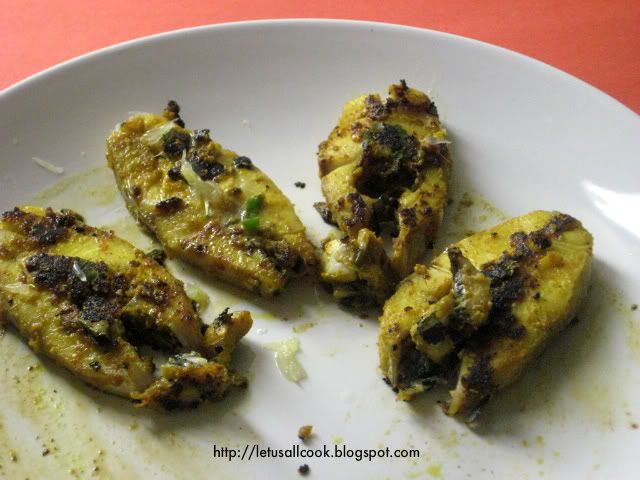 Fish is very good for health and few people consider fish as vegetarian(!?). As it is full of protein, if you are a non-vegetarian, you must consider adding more fish to your diet than meat or poultry.



Ingredients for Fish Fry, the South Indian Style



4 lengthwise cut fish pieces (any freshwater fish)
few curry leaves
1 tsp ginger garlic paste
1 tsp turmeric powder
Few coriander leaves
1 tsp coriander powder
1 chopped green chili
salt to taste
1 tsp red chili powder
1 tsp of lemon juice
1 tbspn of oil



Method:



Wash the fish in running water and using a tissue paper remove the moisture from the fish.

In a small bowl, add turmeric,coriander powder,chili powder,ginger garlic paste,chopped curry leaves,chopped coriander,green chilies, salt.

Add oil to this mixture so that we do not use oil while frying/grilling.

Add the lemon juice and mix well.

Now, apply this mixture to the fish so that this masala evenly coats the fish.

Leave it for 15 minutes.

In a Tawa/Grill, place the marinated fish and cook for 3 min, turn and cook for another 2 min till the fish is cooked. On the whole, after 7-8 min the fish is cooked and ready to eat.

Always cook it in a medium heat. Serve hot.