I still remember my school days where we five (we were like the Famous five in our school) stand in queue to get the
Bhel Puri
served in the shop near our school. Usually this will be after the swimming classes that took place during weekends. We used to have loads of fun in the swimming class and the minute we get out of the class we all will be standing in this shop. We would be so hungry and this Bhel Puri would taste awesome. I still remember the taste. Y-U-M-M-Y!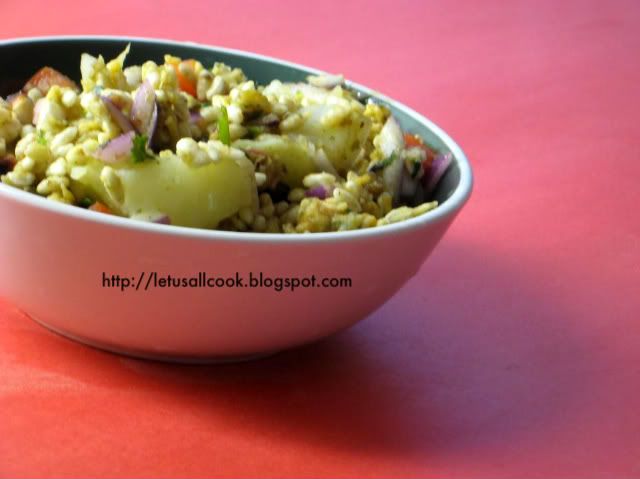 I have tried many versions of this
famous Indian chat
, but nothing could match the taste of the Bhel Puri from the street shop. Hmm...what to do?, may be they have some secret ingredient...anyways I prepared this bhel puri last Saturday during snack time and here is the recipe.



Ingredients:

(For 2 people)

For the bhel

2 cups of puffed rice
½ cup sev, which can be prepared from this omapodi/sev recipe
½ cup of papads broken (You can use any kind of chips)
1 onion finely chopped
1 tomato, chopped
1/2 cup boiled chopped potatoes
2 tbsp coriander leaves, chopped
salt to taste

Green Chutney

2 cups coriander leaves
1/2 cup mint leaves (optional)
5-6 green chilies
1 tbs lime juice
Salt to taste

Grind the above items to a fine paste by adding required water

Tamarind Chutney

3/4 cup tamarind water (lemon size tamarind soaked in water)
1/2 cup dates deseeded
3/4 cup jaggery
1/2 tsp cumin powder
1/4 tsp salt

In a pan add the tamarind water, seedless dates, jaggery, cumin powder, and salt. Bring them to boil and cook for 8- 10 minutes. Cool the mixture and grind it.




Method:



Mix puffed rice, sev, and broken papadi in a large bowl.

Add onions, tomato, boiled potato, add required green and tamarind chutney.

Mix well and garnish with sev and cilantro leaves. Serve immediately :)

Note:

These chutneys can be stored (refrigerated) for 2 days in an air tight container.