I love anything that is deep fried. I am not a health freak! I love to eat Junk food especially when it is tasty.
Medhu Vada
is one such recipe. Every South Indian function will definitely have this recipe as a starter. You can do many variations to this recipe and all tastes scrumptious. I am not sure if you can bake this Medhu Vada? hmm have to try it sometime. If you know, do let me know.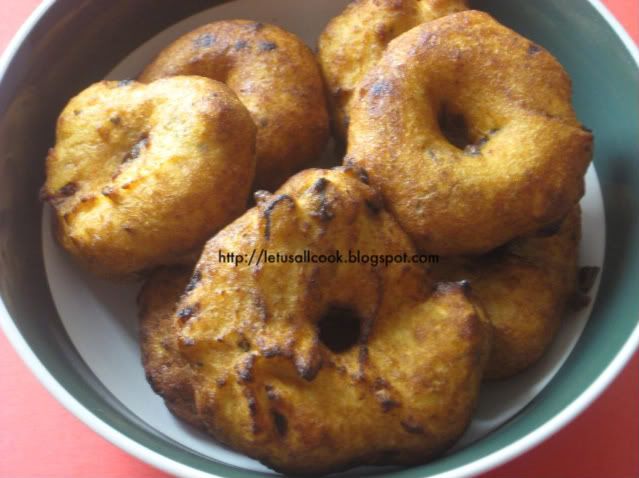 I made this
Medhu vada for Diwali
. Usually I do it a different way, but this time I followed different method.




Ingredients:

(For 8 to 10 vadas)

1 cup Urad dal
1 green chilli, finely chopped
1 tsp crushed pepper
1 tsp cumin seeds
salt to taste
small coconut chunks (optional)
Few Curry Leaves



Method:



Soak the Urad dal for 4-5 hours. The more you soak the more softer and lighter the vadas will be.

Grind it into a smooth paste with adding very little (2 tsp) of water and salt. As it is soaked for a longer time, the dal itself will have moisture in it, so no need to add any extra water.


Add the chopped green chilli, crushed pepper, coconut chunks,chopped curry leaves and mix well.

In a pan, add oil and deep fry these by taking a small amount in hand and making a small hole in the center.

If the dough sticks in your hand just wet you hands before making the vadas.

Deep fry them for a minute and serve hot with Chutney, Sambhar or even eat them without any accompaniment.