ok, now you may wonder what is this girl doing with non-vegetarian cooking? oh! has she shifted to non-veg? and especially if my parents are reading this, I might get a phone call immediately. Because I am vegetarian, not vegan though. I neither cook non-vegetarian nor eat. So how is this recipe? All credits goes to my husband.
Pathetic!, you might think. But he has no other option. His mom is not near us to cook for him. So only way is to either eat outside or self cook. After coming to a conclusion that eating outside is not affordable, my husband has decided to cook himself. Here he is sharing his recipe for the
Authentic Chetinad pepper Chicken Curry recipe.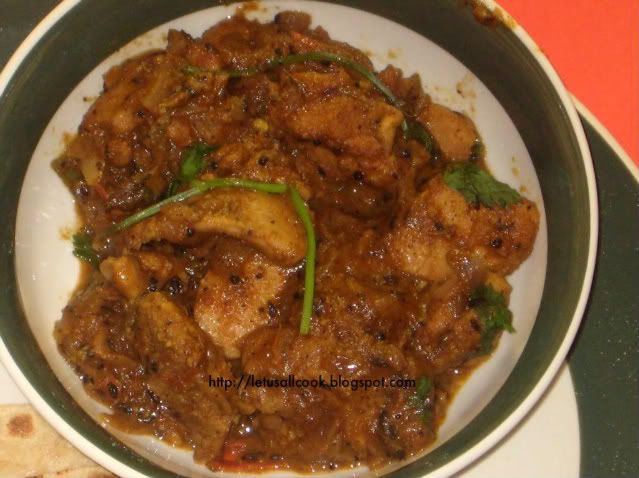 I really don't know how it tastes. But, after coming to know that he followed the recipe from
Vahrehvah
, I am pretty sure that it would have tasted awesome. I am a great fan of Sanjay, the Vah chef and I take this opportunity to thank him for making my husband cook.




Ingredients:



2 whole cardamom
250 grams chicken (wash, clean and cut the chicken)
2 cinnamon sticks
2 Bayleaves
3-4 cloves
2 tsp coriander powder
1 tsp turmeric powder
2 tsp crushed pepper corns
2 tsp cumin seeds
2 tsp cumin powder
Few curry leaves
few fresh chopped coriander
2 tsp ginger garlic paste
3 green chillies,chopped
1 tsp mustard
2-3 tsp oil
1 cup finely chopped onion
1 tsp red chilli powder
salt to taste
3/4 cup tomatoes






Method:



Heat the oil in a large pan.

Add mustard seeds, when it pops add cumin seeds and whole garam masala (cardamom,cloves,cinnamon, bay leaves).

Add the onions, salt and saute till onions are light brown.

Now add turmeric, ginger garlic paste curry leaves, and green chilli.

Add tomatoes and mix well.

Now, add the chilli powder, coriander powder and cumin powder mix well.

Cook for 10 min in a medium flame till the tomatoes are cooked well.

When the oil oozes out, add the chicken to the frying pan and mix well.

Cover and cook over a low-medium heat for 10-15 minutes or until the chicken is fully cooked.

Add the ground pepper into the mixture and mix well.

Serve hot as side dish to chapati, Dosa or any Rice varieties.



Note:



This is a highly spicy recipe. So be sure to lower your spices according to your taste.

Do not add water throughout the entire process.