Even last Saturday we went to Chipotle. It has become one of our favorite hang out. Mainly because of the
Burrito bol
that they serve. I love the combination of black beans and rice. It always makes me lick my finger, in this case fork. I initially thought that you require some kind of mexican ingredient for this recipe to taste good. But, it is not the case. Though the Burrito bol served by Chipotle tastes scrumptious, I prepared a homemade version of it and it came out simply yummy!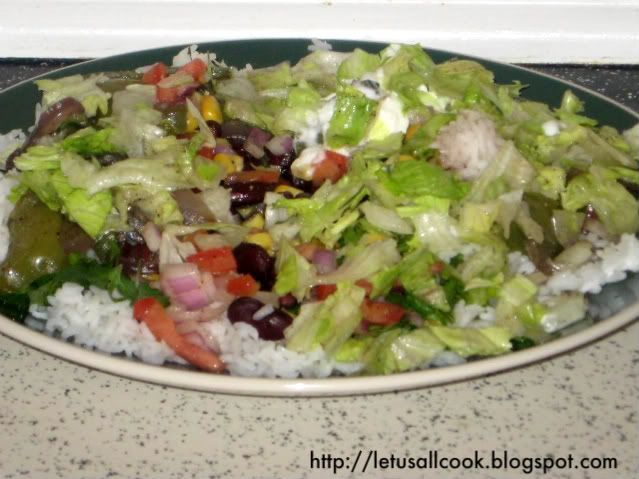 I generally order my Burrito Bol with Vegetables,Black beans, Tomato Salsa,Sour cream, lettuce and a
Tortilla chips packet
. I have tried to prepare this combo at home with Rajma (Red Kidney beans). Long back I tried the
Salsa with Rajma
and now the Burrito Bol. Both tasted great.
To make this
homemade Burrito Bol
, all you need is


1 cup of Black beans/Red beans(Rajma) - I used Rajma
1 cup of rice
1/4 cup of corn (I used Frozen Corn)
1 small onion(chopped lengthwise)
1/4 cup Lettuce
1/4 cup cilantro (optional)
1/4 cup of Capsicum
1/4 cup zucchini
1 tbspn of sour cream or Yogurt
1/4 cup cheese (optional)
Salt to taste

To make salsa:
1 medium tomato
1 medium onion
1 tsp pepper
1 tsp salt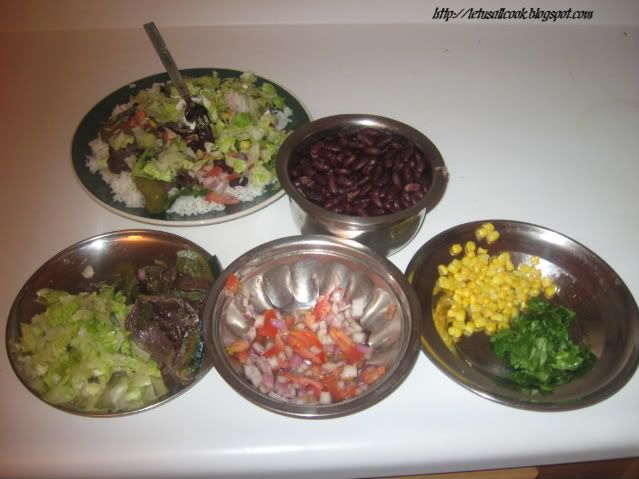 How to make this Burrito Bol at home?
Cook the rice separately and mix with cilantro.

In a pan, add oil and add the onions chopped length wise and saute.

Add the capsicum, zucchini and saute.

Add salt and cook for few minutes (till the vegetables are tender).

Pressure cook the beans separately adding required salt.

To make the salsa, chop the onions and tomatoes into small pieces and add salt and pepper.

Now in a bowl, add a cup of rice, add the vegetables, corn, salsa, sour cream or yogurt, Cheese.

Mix well and top it with the lettuce.

Serve hot!