Eat Healthy - Fight Diabetes event
is a great source of healthy recipes. I still have to try out a lot of recipes from that. To start with, I made
Ragi Dosa
of Srilekha's. I added some vegetables to make it more healthy. I must say, Ragi dosa did taste like normal dosa and I found it even more tastier with Chilli sauce than any chutney. Ha! Chilly(Silly) me!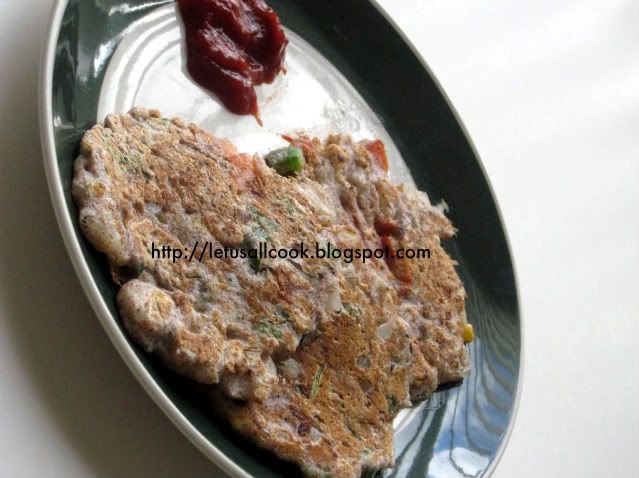 Since it has ragi (Finger millet), vegetables I am sending this to my
eat healthy during pregnancy
contest. Ragi is very good source of amino acid methionine. A great food which helps us to maintain our weight too. What else can a girl ask for? So here comes Ragi Dosa recipe, my version.



Ingredients:



1 cup Ragi flour
2 cups of Dosa batter (Chk out how to make dosa batter here)
1/2 cup onions, chopped finely
1/4 cup tomatoes, chopped finely
1 tbspn of corn (you can use frozen corn)
1/2 cup vegetables of your choice(I used carrots,spinach)
2-3 tsp of oil
Salt to taste (As the dosa batter will already have salt, be careful with the amount)
few chopped curry leaves
few chopped cilantro
few chopped nuts(optional)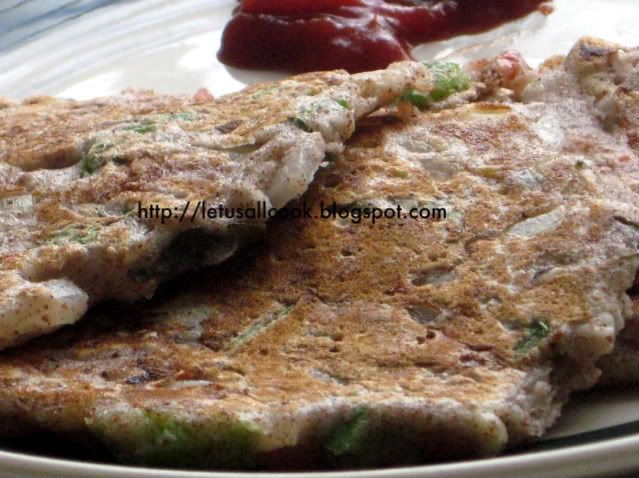 Method:



In a bowl, mix all the ingredients and let it rest for 2 min.

In a Tawa/Griddle, add 1 tbspn of the batter, spread it and make a round shape.

Add 1 tsp of oil, Cook for 1 min and turn. Cook for another 30 sec.

Check if both sides are cooked. Repeat this process until you are out of batter.

Serve hot with Chilly sauce or chutney.