Microwave Bread Pizza
has become my favorite quick meal recipe. You can have it for breakfast, lunch or dinner. Just the number of bread varies. A very simple recipe. I wanted to try this for a long time now. I saw this recipe at
priya's
and was very tempted to try it out. As I did not have microwave that time, I couldn't.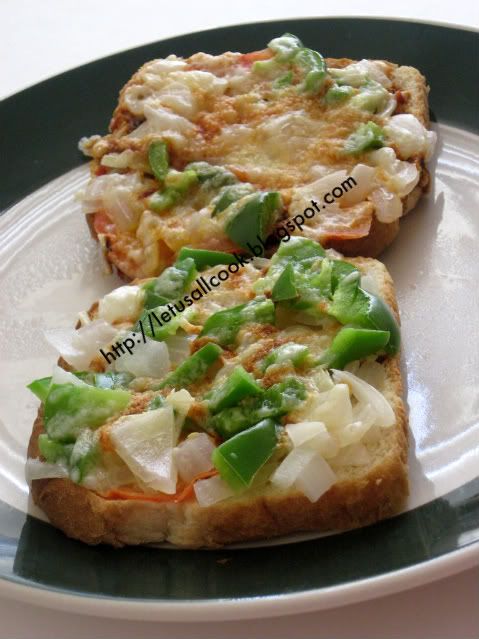 This is one of the quickest recipes you can try out and your kids will go glutton for sure. If you ask me if it is healthy, I would say, yes to a certain amount. If you use whole wheat bread and stuff the pizza with veggies especially broccoli and use less cheese it is a healthy version. But, once in a while you can treat your tongue too!



Ingredients: (Serves 2)



4 Bread slices (Make sure to use bread having big slices)
1/cup lengthwise chopped onions
1/4 cup chopped tomato
1/4 cup Mozzarella cheese
1/4 cup zucchini, chopped
1/4 cup broccoli florets
1/4 cup capsicum, chopped
1 tbspn pizza sauce, if you do not have this you can go with chilli sauce too!



Method

:

Take a bread slice and add the pizza sauce. Top it with the other ingredients and finally with cheese.

In a microwave safe plate, place the bread slice and cook it for 3 min in high.

Allow it to cool for 2 min and then serve.