I actually wanted to make a video for this post but, due to various reasons I couldn't.
Paneer is a very unique Indian Cheese.
It is the only cheese I know which doesn't melt even when you cook them. Interesting isn't it? Paneer is the Indian cottage cheese which is used in many side dishes. The Paneer itself can be prepared adding some flavors to it. But generally a Paneer tastes better when it is in a sauce.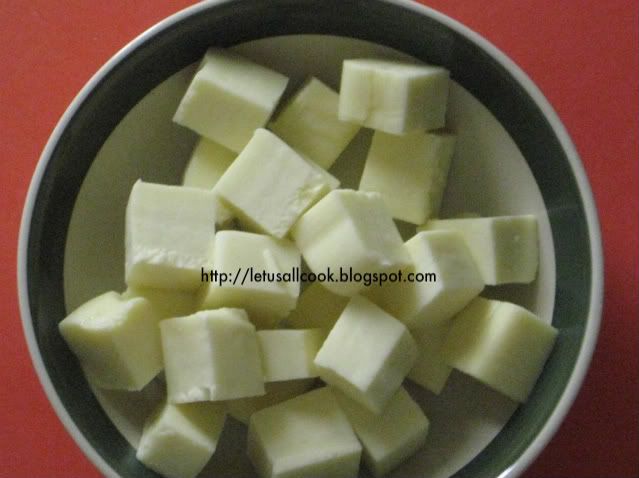 You can easily make
homemade paneer
. All you need is,
1/2 gallon of whole milk
2 tsp of Lemon juice or vinegar
A muslin cloth
weights or heavy vessel



Method:



In a milk pan, boil the milk. Simmer it and the add the lemon juice to it and wait for it to separate.

Use a muslin cloth for filtering this and use the filtered water to make chapatis or even as a vegetable stock.

Squeeze out the water from the muslin cloth and tie a knot and hang it for 20mts. This will remove the excess moisture present.

Now take the cloth and fold it into a square shape and place a heavy weight on top of it for the paneer to set.




Allow it to set for 45 mts and cut it into small pieces of your shape and size.



Note:



1.It is important you use the paneer as soon as possible. You can also store it in the refrigerator for a couple of days. While doing so, make sure that the cut paneer piece and immersed in water. This will help the paneer to be more soft.

2. If you do not have a muslin cloth, you can use any thin cloth, preferably cotton.

3. You can also add spices and herbs while boiling milk to make different types of Paneer.


I will surely make a video next time when I make Paneer.

You can use this Paneer and prepare Paneer tikka masala, matar paneer etc