Leading a healthy life is what we all want. Isn't it?
When it comes to health, exercising and a good diet plays major role.
I have tried many diets to reduce my weight. But mostly I discontinue these fancy diets mainly because it was really hard to follow. You might all be aware of the famous 7 day diet. I have tried it twice and both the time I had a considerable weight loss but my body's reaction to the diet was different. I had to face some other heath problem. So, I stopped dieting and moreover it is very difficult for me to control my want for delicious food. Sometimes I do what is called
'emotional eating'
. I know emotional eating is not good. There are always 'buts' for everything right?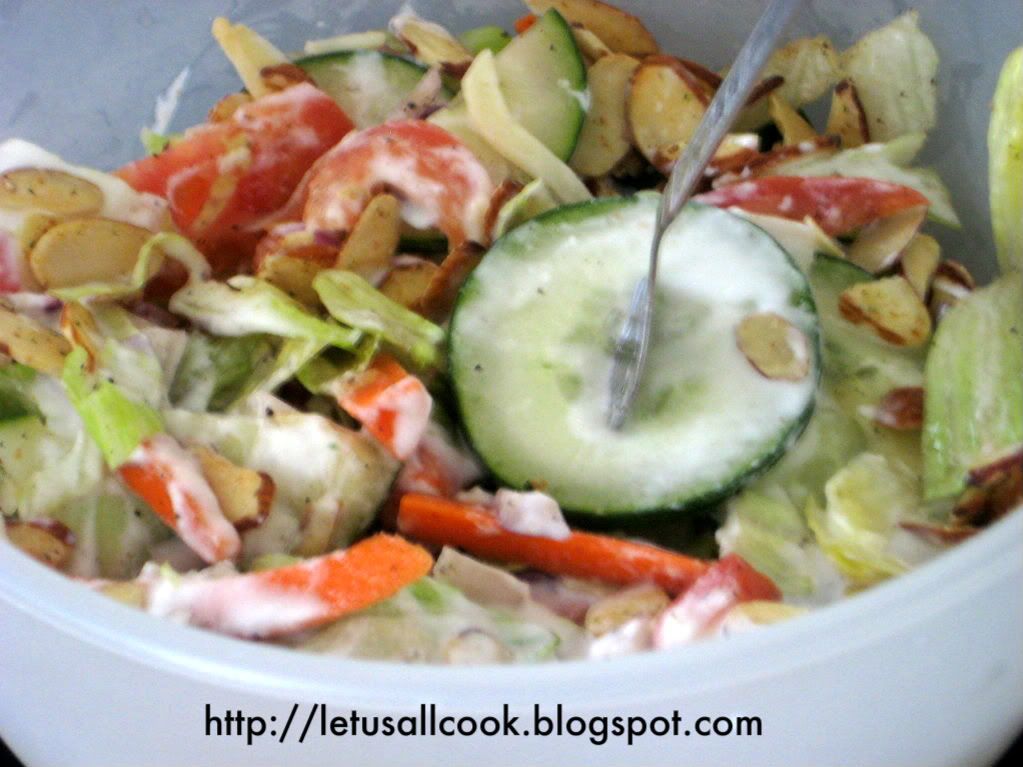 I am incorporating a healthy diet slowly.
Raw Fruits and vegetables are the best diet food.
To make them more delicious to eat we add salt, pepper and ranch. Since most of the time when I see the label in the Ranch bottles (shows that it contains more fat) I hesitate to buy, I started to prepare
simple and easy homemade ranch
for my vegetable salads. It is very simple and those who love Yogurt will definitely love this ranch.




Low-fat, Low-carb diet

is what most of us prefer. Here is a salad which can be served for lunch or dinner which is low-fat, low-carb and a perfect diet foods for kids, adults. I have this salad at least three times a week. It is really a refreshing healthy food.
Ingredients:
1 cup of cut vegetables - This can contain lettuce, carrots, cucumber, Tomatoes and any other vegetable which you would feel really comfortable eating them raw.
1/4 cup onions chopped lengthwise
Salt to taste
Pepper to taste
Home made Ranch or Ranch of your choice
Almonds (Optional)
Method:
In a bowl mix the vegetables, onions salt and pepper. Toss them well.
Now add the ranch and vola! we have our healthy salad ready in minutes.
To prepare the homemade ranch:
Take 1 tbsp of low-fat yogurt and a pinch of salt and red chilli powder (optional) and your homemade ranch is ready.
I use this homemade ranch for my salads and I love the way it tastes. Please let me know if you have tried this. Did you like it?
Since this is a Low-fat, low- carb diet food, which is very healthy, I am sending this to diet food by
dilse-divya
and
Eat healthy- Fight diabetes contest
.