Navaratri is nearing its end. My husband is feeling sad because from tomorrow he won't be getting sundal and sweet daily. It has been like a feast for him every day. After coming from office, the first thing he asks me is 'What have you prepared today?'.
Tomorrow is
Saraswati pooja
. The one thing I used to love and am still loving about the day is keeping all the books in pooja! Hurray! No studying tomorrow! Only watching TV! As a kid, I bet all of us would have had this thought! Anyways people in US have to wait for another day to enjoy Saraswati Pooja!
Today's
Navaratri Prasadam is Corn Sundal and Rava Ladoo.




Corn Sundal

:

1 cup Frozen/fresh corn
1/2 cup finely chopped onion
1 tsp of urad dal
1 tsp of channa dal
2 Dry Red chillies OR Green chillies
Few curry leaves
2 tsp of oil
Salt to taste
1 tsp mustard
A pinch of Hing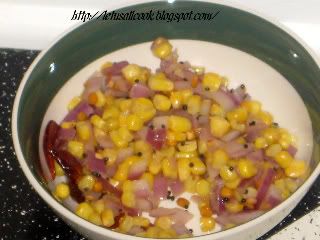 Method:



In a pan, add oil, mustard seeds. When it pops add hing powder.

Add the urad and channa dal and saute. Add curry leaves and Red/green chillies.

Add the onions and salt. Saute for few seconds.

Now add the frozen corn. If using fresh corn, cook the corn before adding.

The Corn sundal is ready!

I am sharing the

Rava Ladoo as today' Sweet.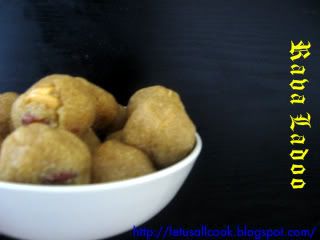 Check out my other Navaratri series recipes