Every cook will have an alternate for each ingredient, so that he/she need not get panic when in crisis. Alternatives, have been and will always be of great help. The greatest alternative I have come across is, tofu for eggs and yes, it makes a lot of recipes involving eggs available for vegans.

Yesterday, I wanted to prepare Rava ladoo. Sometimes you get this urge suddenly from no where to eat a particular food. I have experienced this a lot of times. How about you? With this irresistible feeling I went into the kitchen and found that I am out of sugar. Darn my memory! I have been out of sugar for a couple of days now and yet to stock it up.

These practical difficulties are never understood by our desire. My craving for rava ladoo was on top of my mind preventing me from doing any other work. Even without this craving, I wouldn't have done anything because I am lazy. But, now I have a reason to skip my chores.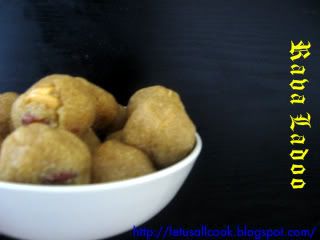 OK. I have to make Rava ladoo and I am out of Sugar. What next? Bingo! I found Jaggery. I know few sweets made out of Jaggery and also know that Rava Ladoo,made with sugar is a treat. But, I have no other option. With no further adieu I put on my creative chef hat and was ready to take the risk. Here is the recipe of Rava Ladoo with Jaggery for you to try.

Ingredients:

1 cup Rava/Suji/Semolina
3/4 cup Jaggery
1 cup Ghee/clarified butter (Yes! more ghee, more taste)
Fried Cashews
Fried Raisins
1 tsp cardamom powder or 2 whole cardamom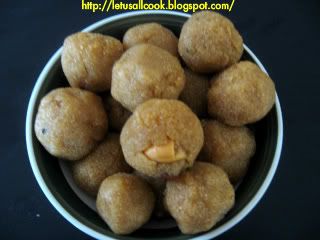 Method:



Fry the Rava/Semolina in ghee till it turns light brown and your kitchen is filled with a pleasant smell of roasted rava.

Powder the jaggery in a blender.

In a pan, add ghee. Now add the rava and jaggery. Mix well.

Add fried cashews and raisins along with the cardamom powder.

Make small balls from the mixture.

Store it in an air tight container and enjoy!

Actually this is the same process as that of Rava Ladoo with sugar, but instead you use Jaggery. I must say, worth a try.