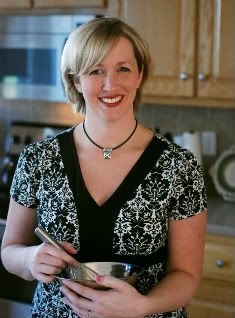 Recently I got introduced to Kristen, the owner of Dine and Dish, a Food and recipe Blog.
She has a great collection of recipes and the one thing that caught my eye is the

Adopt a Blogger program

that she started. To know more read on.


When and Why did you start a blog?
I started blogging November of 2006. My parents had just moved to the Southern tip of Texas and I knew we would be able to keep in touch as often as I would like. With three young grandchildren, I knew it was important for my parents to be able to stay in the loop with what they were up to, so I started a family blog. At the same time, I started a food blog.
Have you cooked Indian recipes?What do you think about Indian Cuisine?
I have never cooked Indian recipes. We have some good friends who cook Indian food for us quite often though and I love it!
Why did you choose Food as your topic to blog?
I try to make my blog about more than just food. Food is one of the cornerstones of our life, but beyond the food is always a story. I figured I could wrap so many things up in a food blog!
Which Cuisine you specialize in?

I don't really specialize in a cuisine... just whatever I feel like cooking! Most of my recipes are family friendly.



In a day, how many hours you spend blogging?



I am trying to cut this down by quite a bit because blogging tends to grab a hold of me and before I know it too much time has gone by. I am limiting myself to 2 hours or less a day for blogging related activities.



Do you have any other hobbies other than blogging?



Well, cooking is a big hobby. Reading, traveling, photography are a couple of other hobbies.



What do you feel about blogging becoming a career?



Wouldn't that be a dream? I have received several paid gigs through my blog, which is fantastic. Most of them involve food and writing, so of course I'm thrilled with that. It is nice to make money from doing something that you love!



Do you see any change in your blogging habits?



I am paring back on blogging some and am only going to be posting a couple of times per week instead of more often than that.



Where do you see your blog 1 year from now?



I see it about the same as it is now. I hope that I continue to get freelance opportunities and review opportunities and that I continue to entertain my readers. More importantly, I hope that I am able to stay true to myself and to remember my real reason for blogging!



Give us some tips to balance blogging and our life.



Bloggers can put a lot of stress upon themselves to keep up with the more popular blogs. Always remember why you are blogging. Comments and high visitor stats are great, but if blogging takes over your life because you are trying to outdo yourself, you will get burnt out and your purpose for blogging won't be fulfilled. Stay true to yourself, limit the time you spend on the computer, and make sure you continue to have fun!



What advice do you give to the new comers?



Get into a blogging schedule that is comfortable for your life. Don't feel pressured to write everyday. Find your own voice and make sure to write about something you are passionate about.



Do you have anyother blogs other than the food blog?



I have a family blog www.dineanddish.net/family



What do you feel about recent copyright issues?



I think it is very important to always credit the source. Always. If you want to use someone's photo, ask permission before you post the photo on your blog.



Do you have any experience like this before? Any advice?(reg copyright issues)



Have had no issues!



Your photography secrets and tips

-

Instead of giving you my secrets and tips (because I really don't have many!) I'd like to direct you to this fantastic post about food photography from Vegan Yum Yum http://veganyumyum.com/2008/09/food-photography-for-bloggers/



Tell us about Adopt a blogger event. I was really impressed and sad though, that I couldn't be a part this time.



Adopt a Blogger was something I started to help new bloggers find their way in the blogging world. I love the buddy system and mentoring programs. Adopt a Blogger gives new bloggers the chance to be mentored by more experienced bloggers. I am really excited about how well this concept has been received!



More about your hobbies,interests



I love to cook, obviously! I love to travel... by car, boat, plane. I enjoy seeing America, stopping at small roadside cafes, etc. I enjoy reading, photography, family and girls nights out with other moms.



You are a regular reader of ....



USA Today, People Magazine, Coastal Living, Real Simple and tons of cooking magazines



Your favorite food blogs, other blogs

-

I honestly can't single out any because I love so many. Two blogs that inspired me in the beginning and I still love today are French Kitchen in America (www.frenchkitcheninamerica.blogspot.com) and The Whistlestop Cafe (www.whistlestopcooking.blogspot.com)



How do you keep in touch with your fellow bloggers, do you use social sites?



Twitter is the only social networking site that I regularly use. I keep in touch with fellow bloggers by visiting and reading their blogs and responding to comments left on my site.



How are the social sites playing their part in blogging .



It is so interesting to see how many more bloggers I know now through Twitter alone. It is fun to network with people with same interests.



How blogging has changed your life?



It has re-awakened my love for writing. I've met so many new people and have been reconnected with people who I've lost contact with.



Who/what is your inspiration?



My mom is definitely my inspiration!



Do you host your blog in your own domain? what blog hosts you suggest for a new blogger/experienced blogger.


I use WebEx Hosting (www.webexhosting.com) and highly recommend them!



How do you cope up with the technical requirements for being a blogger



I think blogging has really made me want to learn more about technology. I do get frustrated about my lack of design experience. I wish I could do it all myself, but sometimes it is best to hire professionals to take over what you can't. It costs money, but saves on my frustration level down the road.



If people want to contact you through social media, are you available?



I am - kristen@dineanddish.net is my email. Twitter, Stumbleupon are both dineanddish



Your achievements as far as blogging is concerned so far.



I think the increase in the number of freelance writing gigs I have received is my biggest achievement. Last year, my blog was nominated and in the top five for the Well Fed Networks blog awards in the Family Friendly category. That was pretty exciting :)



Have you been to my site before?Do you have any comments for me?



I have been and I think you are doing a great job! I especially love the calcium rich focus.

Wow! Isn't it a great interview. I really enjoyed reading myself,especially the Photography tips.

I take this opportunity to

Thank Kristen

for her lovely interview, despite her busy schedule. Being a mom of 3, she is really busy!

I appreciate your comments and suggestions for future interviews. If you want anyone to be interviewed for this series, please let me know.

Don't miss the interview series. Do subscribe

in a READER

OR via EMAIL to my blog!

Checkout the previous foodie chats.