Kanchipuram is my mom's native. I have been to Kanchipuram only twice. Both the times, to attend my relative's marriage. Though I know Kanchipuram is famous for its temples, the first thing that pops my mind is the Idly. The most
famous South Indian breakfast recipe
as far as I know.
As a kid, I got carried away by the name. Even the same with Kushboo Idly. Do you even know the etymology of this idly variety? I have to do some research now. Is it the Hindi word meaning smell or aroma or is it referring to the South Indian actress Kushboo. I'll never know.
OK back to our
Kanchipuram Idly
. To prepare this recipe you will need,


1 cup split black gram (urad dal)
1 cup raw rice
1 cup boiled rice
1 tablespoon split Bengal gram (chana dal)
1 tsp cumin seeds
3/4 cup sour curd
Few fried cashews
4 green chillies, chopped(optional)
1 teaspoon grated ginger
1 teaspoon pepper powder or freshly ground pepper
3 to 4 chopped curry leaves
1 tablespoons ghee or Oil
salt to taste
oil for greasing the Idly plates.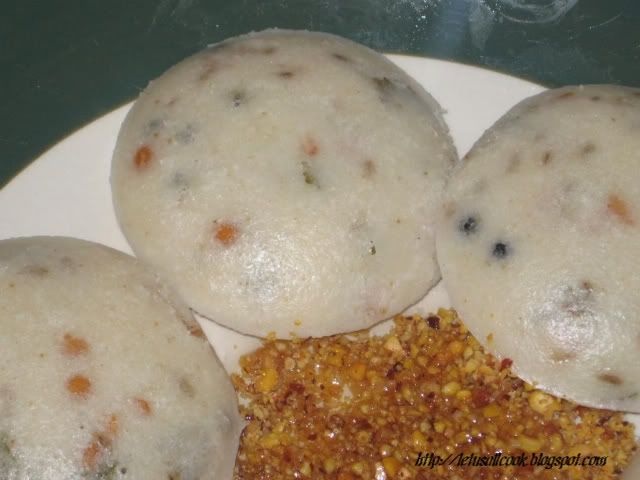 How to Prepare Kanchipuram Idly?
Soak both the rice together and Urad dal separately.

Make the Idly batter as shown in this how to make idly batter video.

When you are going to make the idly, in a pan, add a tsp of ghee/oil and saute urad dal,channa dal, cumin seeds, curry leaves, pepper, ginger.

Add this to the fermented batter along with fried cashews and sour curd. Mix well.

Greece the Idly cooker, or the Idly maker with little oil so that the Idlys come out without sticking.

Pour the batter and cook it for 15-20 min.

Serve hot with Chutney/Dip or the famous Milagai Podi.