When it comes to spicy gravy/curry recipe, no recipe can compete with the Indian recipes. They have their own 'it' factor that makes them unique.
Baingan
Bhartha
is one such South Indian recipe, an Andra Recipe to be precise. I had bought a big eggplant to make Bagara baigan, one of the famous eggplant recipe prepared the Indian way. Unbeknownst to me, I had been preparing baingan bhartha. Got a little confused with the names. Whatever may be the case, I was happy that the recipe turned out to be highly tasty.
This is a simple and easy way to cook eggplant and it goes great with any type of biriyani, pulao, chapathi, roti or even naan. You can find these recipes in my
recipe index
.



Ingredients for

Baingan

Bhartha

:



1 large eggplant/Brinjal OR 2 to 3 medium sized eggplant
1 cup of finely chopped onions
1 tsp coriander powder
1 tsp cumin powder
1 tsp cumin seeds
1 tsp turmeric powder
1/2 tsp Ginger and garlic paste
1 tsp mustard seeds
2 tbsp Oil
50 ml Tamarind juice
Jaggery (small lemon size)OR 2 tsp of sugar
3 cup Water
Salt to taste

To make the paste:

1 cup Groundnuts
2 tbsp Dry coconut powder
1 tbsp sesame seeds
1 Green chilli

Whole Garam Masala

1 Bay leaf
1 stick of cinnamon
2 to 3 Cloves
3 whole cardamom OR 1 tsp cardamom powder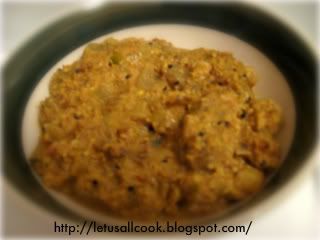 Method:



In a pan, dry roast ground nuts, coconut powder and sesame seeds. Allow it to cool.

Blend it to a coarse paste with water and green chilli.

In a pan,add oil.Fry whole garam masala,mustard and cumin seeds when they start to splatter add onions turmeric,Ginger Garlic Paste.

Add cumin and coriander powder.

Now add the paste we had prepared earlier. Add salt to taste and cook for 10 min.

Now add the tamarind paste and jaggery and cook till oil oozes out in a Sim flame.

Meanwhile, cook your eggplant either by showing it directly to the flame in your stove or using a pressure cooker. The choice is yours.



If using pressure cooker,

do not cut your eggplant. Add little water and a pinch of salt. Pressure cook for 3 hisses. Allow it to cool.Peel the skin and mash it with a spoon or masher.



If going to cook eggplant directly

in the flame, be careful. Don't hurt yourself. Slowly cook till the skin peels off by itself. It will take time and make sure that you don not burn the eggplant too much, which undoubtedly will spoil the taste for you.

Personally, I made this gravy by cooking eggplant directly in the flame. It gives a very unique flavor to the recipe.

Now, add the mashed eggplant to your gravy which is already cooking. Mix well.

Cook for at least 15 min so that the eggplant absorbs the flavor from the gravy.

Serve hot. You can also store refrigerate it and use it for later use. Reheat before serving.

This is going to MM (Sensational Side dish) started by Meeta and this month hosted by Ruth.