I know
Pesarat
is an Andra specialty. Whenever we go to a restaurant in India, I never miss to see this item in the menu. But never have ordered this. To be frank, I have never tasted Pesarat until recently. If you are anything like me, I would really suggest you give it a try. I loved the taste and spiciness and couldn't stop eating. This is a very simple variation of
dosa
. The variation is on the way we prepare the dough and the most important thing is
we need not ferment the dough
. How convenient? we can eat it on the same day we crave these.
Ingredients:

1/2 cup raw rice

1 cup Green gram

2 green chillies

1/2 inch ginger

1 medium onion finely chopped

1/4 cup of finely chopped coriander leaves

salt to taste

1 tsp cumin seeds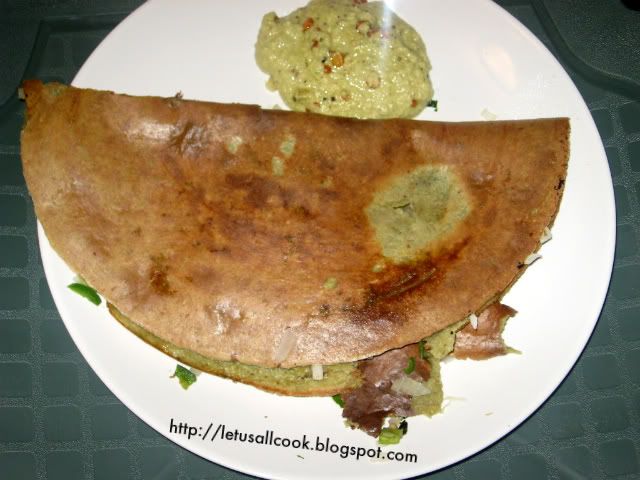 Method:

Soak the rice and gram together for at least 6 hrs. Grind it to a dosa batter consistency with salt, green chillies,ginger and cumin seeds.

Now in a Tawa, pour this batter and cook it in a medium flame. Make the dosa very thin and add the chopped onions and coriander leaves on top of it.

Cook on one side. Do not turn. Wait till it is fully cooked and serve hot with any
chutney
of your choice.
Note:
If you want you can also add some chopped green chillies and ginger on top of your dosa to make it spicy.