This is my first post in this
New Year 2009.
I once again wish you a very
Happy New Year
. Hope you had loads of fun during the weekend. I did. Long weekends are always a pleasure. No time constraint. We can do things slowly and at our own pace. Every year, I would be sleeping when the new year is born. But this time, I was determined to be awake, atleast to cut the cake I made specially for New Year.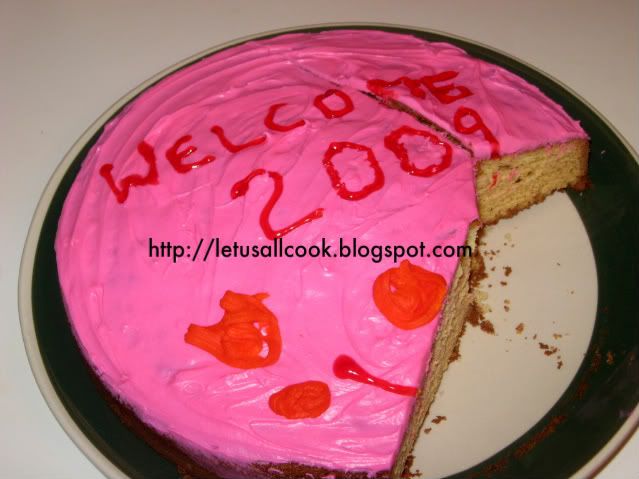 A very simple and easy Vanilla cake
with lots of flavor. I would suggest you to prepare this well ahead and refrigerate it before serving. It sure adds some extra flavor to the cake. If you are a beginner in baking, then this cake is perfect for you. Very easy, at the same time delicious. This simple cake is on its way to
Baking for Beginners
by Vandana.



Ingredients:



1 1/2 cup of AP flour
1 1/2 tsp baking powder
1/4 tsp salt
1/2 cup unsalted butter, softened
1 cup sugar
2 eggs
1/2 tsp vanilla extract
1/2 cup milk



Method:



Preheat the oven to 400 degree F.

In a bowl mix the AP flour, salt and baking powder.

Add the butter slowly and mix using an electric mixer set in low. Mix for about 1 1/2 min.

Add sugar 1 table spoon at a time and mix well. The ingredients must blend nicely. This will take around 2 min.

Add the eggs 1 by 1 and mix well for around 1 1/2 min.

Add the vanilla extract and the milk and blend for 1 min.

Throughout the process do not over beat.

Pour the mixture into a 9 inch round cake pan, or cake pan of your choice and bake it for 30 - 35 min.

Check if the cake is cooked inside with the help of a fork and remove it and allow it to cool for 5 min.

Add icing of your choice or you can serve the cake without any icing.

Refrigerate for 1 hour for better flavor.

Since, it was New Year, I tried some decoration (amateur!) and couldn't wait to eat it. This is the only reason which kept me awake till midnight!