This is a very
famous Breakfast recipe in South India
. The very thought of this recipe makes me drool. Generally it is the
Medu vada soaked in Sambhar
, a tangy tamarind sauce. But the Sambhar which is used for this recipe is slightly different from the
Sambhar
we prepare to eat with rice. It tastes different and more saucy.
Any South Indian Hotels will have this in their menu card and the very sight of this recipe makes you go glutton. Here is the
Medu Vada recipe
. Now for the Sambhar in which it is soaked.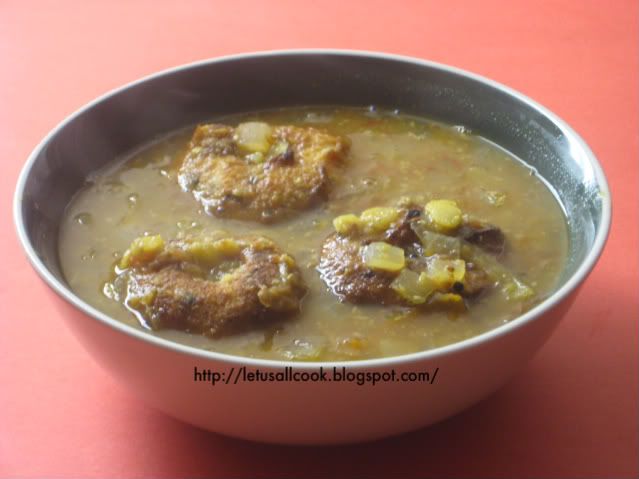 Ingredients:
1 cup Onions,Finely chopped
1/2 cup Toor Dal/Red gram Dal
1 cup tamarind juice
2 Tomatoes, sliced
Small bunch of Coriander leaves, Chopped finely
2 tsp Oil
Salt to taste
1 tsp Mustard
1/4 tsp Hing/Asafetida
Few curry leaves

To Roast & Grind:

2 tsp Dhania/Coriander Seeds
11/2 tsp Urad Dal/Black gram Dal
1 tsp Jeera/Cumin Seeds
2 tsp Channa/Bengal gram Dal
4-5 Red Chillies
1/2 tsp Fenugreek Seeds
1/4 cup of Grated Coconut
2 tsp of oil



Method:



Heat the Oil and fry the 'Ingredients to Roast & Grind' until golden.

Grind to a smooth paste.

Heat Oil in a pan and add mustard seeds. When the seeds pops add hing and cumin seeds and curry leaves.

Now add the onions and and fry for 1 to 2 minutes.

Add the Tomatoes and mix well.

Add enough water and cook it till soft.

Cook red gram dal in pressure cooker and mash well.

Add mashed dal, tamarind extract, and ground paste with salt and enough water to the cooking onions and tomato mixture and bring it to boil.

You can also serve this sambhar with Idly/Dosa.

Soak the vadas for 10 minutes and then serve.