If you ask any Non-veg lover, I bet they will unanimously agree that Hyderabadi chicken biriyani is the best of all biriyanis. I don't know why, but there are a lot of Andra recipes that are a big hit in Tamil Nadu. I love their Parupu Podi(Lentil Powder). When you eat it with ghee and rice...YUM!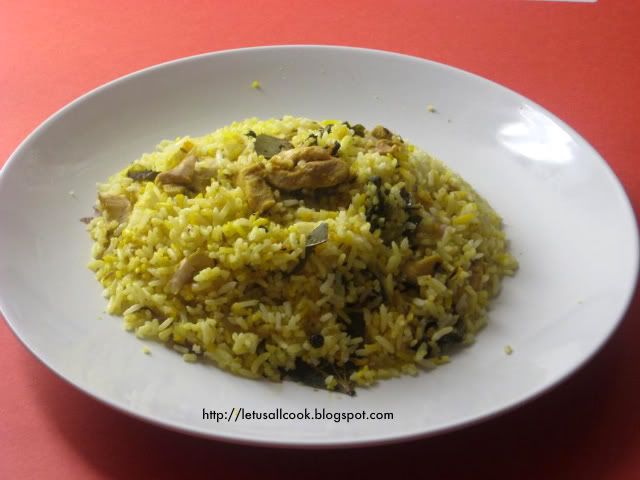 To prepare Hyderabadi chicken Biriyani you need, (for 4 people)

2 lbs of chicken,
2 cups basmati rice
1 cup finely sliced onions(fried),
1 tsp cumin powder
1 tsp coriander powder
1 tsp turmeric powder
1 tsp chilli powder
1 tsp peppercorns
1/2 tsp turmeric,
2 green chillies finely chopped,
few fried cashew nuts,
2 bay leaves,
3 cloves,
1 inch long cinnamon stick,
3 or 4 cardamom,
1 tsp kala jeera(black cumin), if not available you can also use normal cumin seeds
2 cups mint leaves,
1 cup coriander leaves (cilantro),
Salt to taste
1/2 cup yogurt,
1 tbspn oil,
2 tsp saffron colour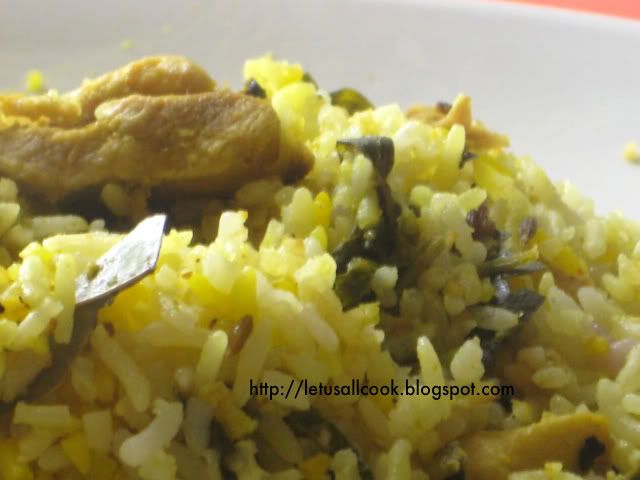 Method:

Clean the chicken and cut them into small cubes.

Marinate the chicken :

In a bowl add chicken, green chillies,mint,coriander leaves, peppercorns,cumin seeds,chilli powder,turmeric,salt,cumin powder,coriander powder,bay leaf,cinnamon,cloves,cardamom,1/2 cup fried onions,1 tbspn oil and yogurt and mix well.

Rest it for 15 mts.

Meanwhile soak the rice in water for 30mts.

In a wide mouth pan, add enough water. Add 2 tsp of oil and add salt.

Drain the soaked rice and add it to the water in the pan and cook.

Make sure that you Half cook your rice. Switch it off.

In another pan, add the marinated chicken in one layer. Add the half cooked rice above the chicken and add the leftover fried onions.

Add the saffron colour.

Cover it tight and cook it for 30mts - 5 min in high flame, 15 mts in medium flame and 10 min in the sim flame.

Serve hot with raita or any other side dish of your choice.