I always wanted to try
Muffins and Cupcakes
. I did try
cupcakes
a couple of weeks back but Muffins, very recently. I always got confused with muffins and cupcakes until recently found their difference (you can find it in my classical cupcake recipe). So Muffins huh? What else can I add with the regular muffin dough? May be oats!
Granular oats
!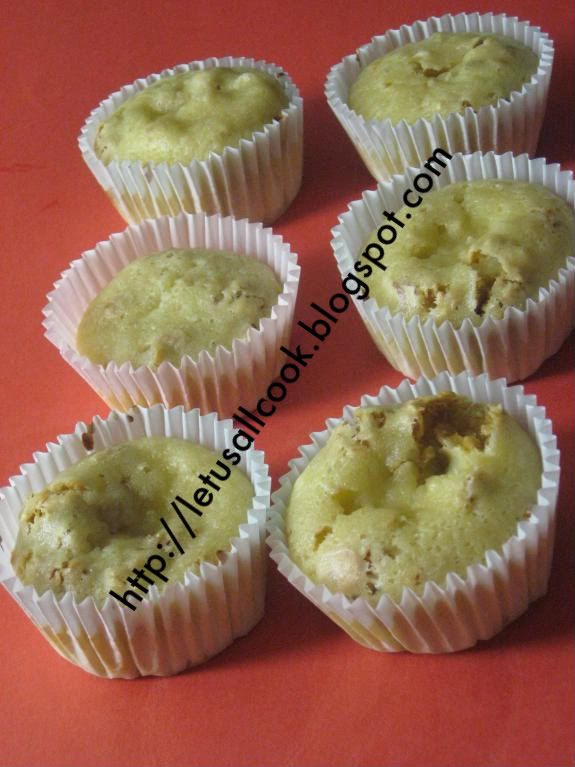 I just wanted to make my muffins healthy. Already I did not use Butter in its preparation so now adding oats gave me a satisfaction that it is healthy someway or the other. I poured only 1/2 of the pan, so my muffins didn't come out fluffy but it tasted real good.



Ingredients:



1 medium egg, beaten.
2 cups of flour
3/4 cup of milk.
1/2 cup of granular oats
1/2 cup of sugar.
1/2 cup of oil, if you want you can use butter too
3 teaspoons of baking powder.
1/2 teaspoon of vanilla extract.
1/8 teaspoon of salt.






Method:



Mix together the egg, milk, oil and vanilla extract.

In another bowl, mix together the flour, sugar, baking powder,salt and granular oats.

Since the granular oats has raisins, it comes out with good taste.

Mix the two mixtures.

Fill 3/4 of a muffin pan with the dough and bake at 390F for about 15 minutes.

Allow it to cool and serve with tea/coffee for breakfast.