Halloween is fun. When you participate in any event, the fun multiplies. It is the same with Halloween. When you or your kid becomes a part of
Halloween celebrations
, it is more memorable and more joy. Not for Halloween, I would say, it is really a good practice to
teach your kids how to cook
. It is proved that kids who learn to serve their needs grow as a successful person both in personal and professional life.
Staring with something simple and interesting will surely make them want to learn. To start with, here is the recipe of a
simple, quick and easy sandwich
. As it is Halloween, I have made it look like a monster.There is something between me and monsters :)You can serve this as a
Halloween breakfast
. Involve your kids while preparing this sandwich. You will be surprised how willing they are to learn more and have fun with cooking.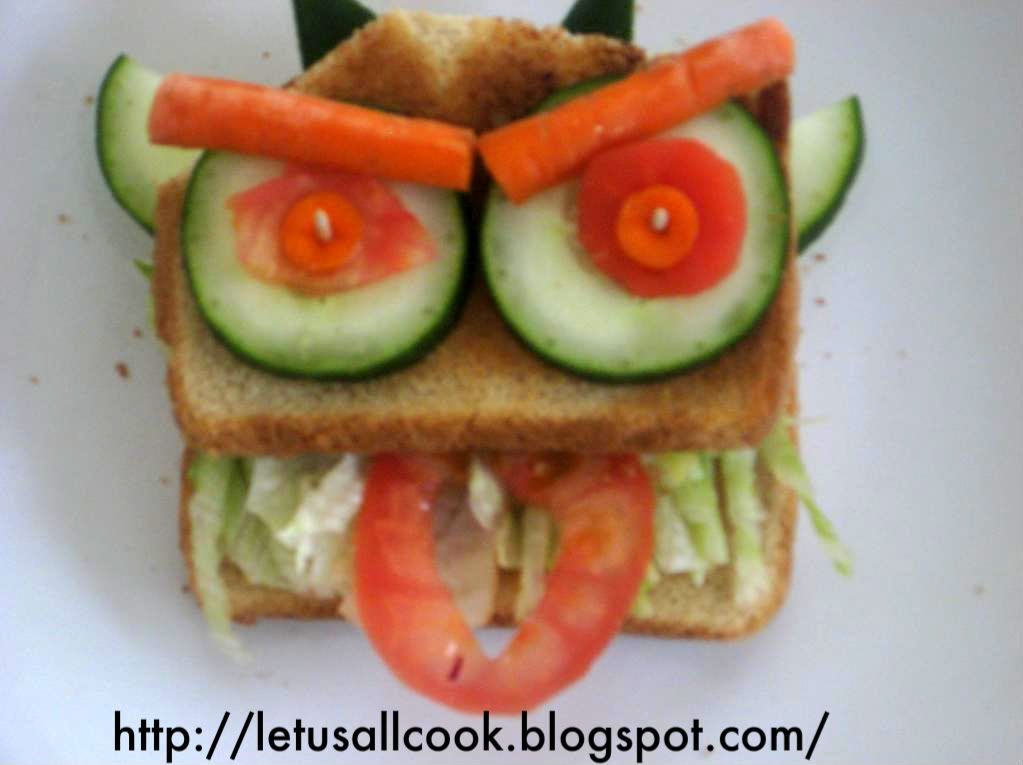 To make this
Monster sandwich
all you need is,


(For 1 serving)

2 Slices of Toasted bread (I used Whole wheat bread, you can use anything)
Few Tomato slices
Few Cucumber Slices
Few chopped Lettuce
2 Toothpick
Few sliced carrots
Grated Cheese (optional) - Any kind.



Method:



Toast the bread and cut one bread to half.

Place them and make the sandwich as shown in the picture or be creative.

I used the toothpicks so that the eyes stays in place.

Quick and easy huh? and fun too. What do you say? Making these Monster sandwiches with your kids will surely be memorable. Make this Halloween Memorable. Try these Monster Sandwiches. Doesn't these look like 'Drishti Bomai'? - Tamil word for the doll which will be hung in front of many houses in India to scare bad spirits away.