Uthappam/Oothappam
however you call it, is my favorite. Whenever I go to Saravana Bhavan restaurant near my place, I order this. The Uthappams are similar to dosas excepting that they are thick. There are many variations to this recipe. Plain Uthappam, Tomato and Onion Uthappam, Mixed Vegetable Uthapams etc.
The Uthappam is also called Indian Pizza or pancakes
.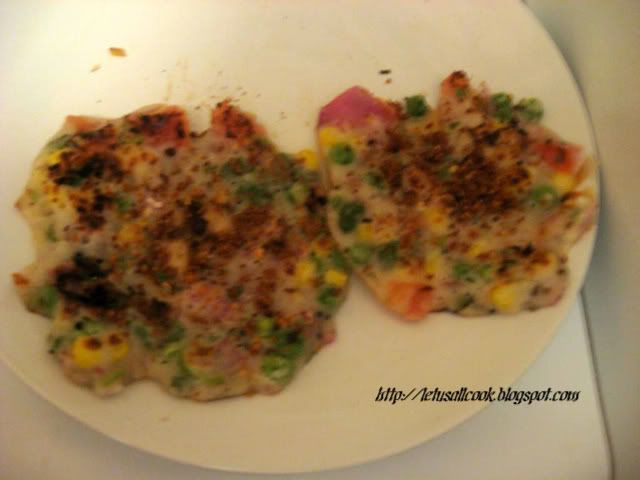 When I was preparing these the other day, my intention was to make the vegetable version. However, my husband wanted to eat these Podi uthappams and so I did a few quick ones. Podi is a Tamil word for powder. In this context it is referring chilli powder (Milagai Podi). You can also make these with vegetables.These pictures were taken in a hurry, so ...



Ingredients:



Dosa Batter
1 cup Milagai podi or Idly podi
few tsp of oil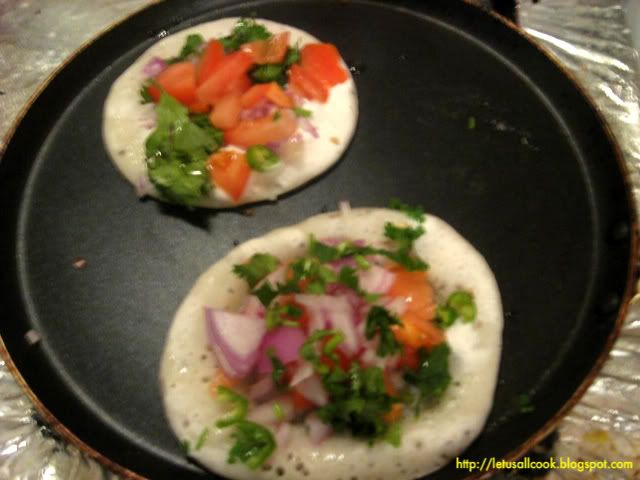 How to make these Podi Uthappams?
For this first you have to make the Dosa Batter as explained in this making of Dosa/Idly batter video.

For Uthappams make the batter little thick.

Spread the dough on the Tawa as shown in the above picture. Make sure that they are not crispy and they are thick.

Sprinkle the Idly podi or the Milagai podi on top and a tsp of oil.

Cook in a sim flame as we will be cooking only one side.

Serve hot.

As we are cooking only one side, either close the Uthappams with a vessel so that the other side is cooked or cook it in a sim flame.

You can serve these with chutney/dip.

To prepare,



Tomato and onion uthappam

- same procedure use these vegetables on the dough and cook one side. (The above pic is taken when I was preparing these)



Vegetable Uthappam

- Same procedure, use your favorite vegies.