Most of the Indians know about
Kasi Halwa
. It is the most scrumptious halwa which will melt the second you put it in your mouth. This
Halwa is done with Ash gaurd/White Poosanika
. But, I made this with orange pumpkin also known as parangikai. I think, but I am not sure. Let me know if I am wrong in naming the friut! Yes Pumpkin falls under the friut category! As I am using pumpkin, this goes to my
Halloween recipe collection
. No! I am not hosting any event. I just want to keep a count of how many recipes I make for
Halloween 2008!
I have a bet with my husband! ;)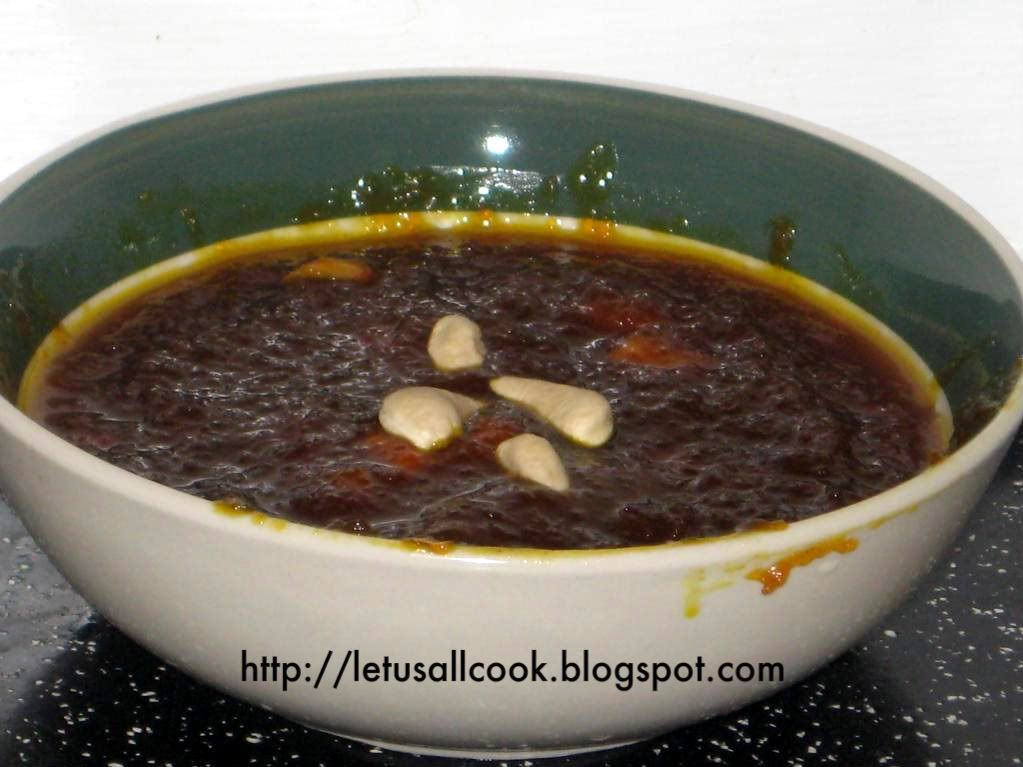 There is an emotional attachment for me to this
Pumpkin recipe
. Something I will never forget in my life! You may have guessed it by now. Yes! It is the sweet which was served for my marriage. I am blushing! My in laws arranged the best cook in their area to prepare this for our marriage and it was a hit! Everyone, including few of my friends, praised this
Kasi halwa recipe
!
Here I come with this lovely Pumpkin recipe/Halwa recipe to make your tongue want more!




Ingredients: (Serves 2)



250 grams pumpkin OR 1 cup of grated pumpkin
1 cup ghee/clarified butter
1 cup sugar
Few fried cashews






Method:



Remove the skin of the pumpkin and grate it.

In a pan, fry the pumpkin without adding water. The moisture content in the pumpkin is more than enough to cook the entire recipe.

Make sure the pumpkin losses its moisture. This will take upto 10 min.

Now add the ghee and mix well. Add the sugar, mix well and cook until the ghee oozes out and floats on top. This will take another 5 min.

Now add the fried cashews. Mix well and switch of the stove.

This Kasi Halwa can be served hot or cold. Either way, it tastes divine.

I am sending this to AFAM-Pumpkin which was started by dear Maheshwari and hosted this month by my dear Madhuram.